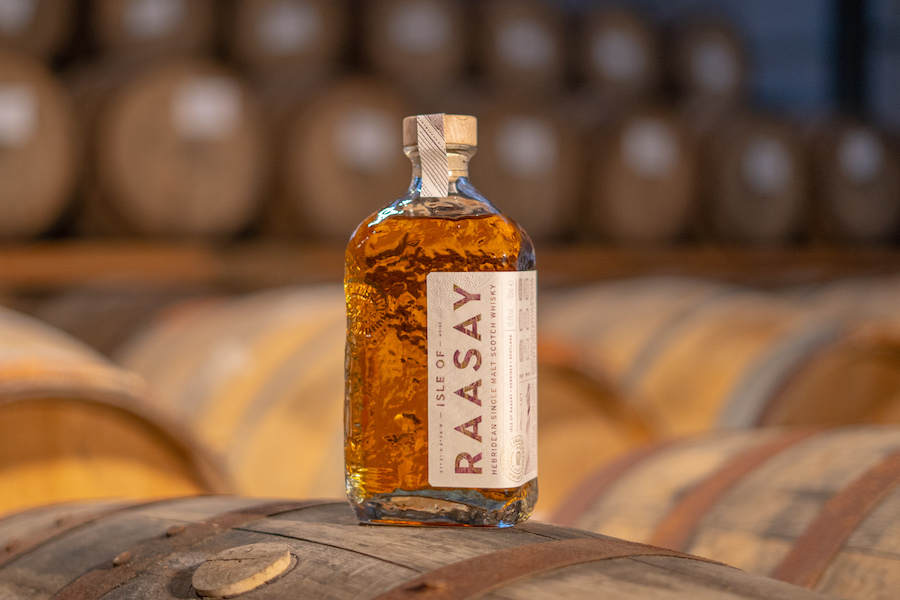 MONARQ & Isle Of Raasay Hebridean Distillers Partnership Annoucement
MIAMI- USA, August 9, 2023 - MONARQ and Isle of Raasay Distillery have officially partnered through a distribution agreement for the Caribbean and Latin America, as well as USA Duty Free, taking the Isle of Raasay Distillery's portfolio to both trade and consumers. MONARQ Group is a leading import, distribution and marketing group of premium alcoholic beverages throughout Latin America and the Caribbean, as well as the USA Duty Free channel.
Home to just 161 people, the Isle of Raasay (Old Norse for Roe Deer island) lies off the west coast of Scotland in the Inner Hebrides, a 25 minute ferry journey from the Isle of Skye. This corner of the world is known for its breathtaking natural beauty, exaggerated landscapes, impressive geology and one of Scotland's most incredibly diverse ecosystems. The Isle of Raasay Distillery is the first legal distillery on the Hebridean island, illicit distilling is said to have taken place on the island as recently as 1850. Co- founded by Scottish entrepreneur Bill Dobbie and whisky blender and qualified botanist Alasdair Day, the Isle of Raasay Distillery distilled its first spirit in September 2017.
MONARQ's Managing Director, Robert de Monchy, says; !we are seeing increasing interest and curiosity in our markets for new frontiers when it comes to premium whiskies. In the past decade, a number of smaller independent single malt distilleries have broken ground, be it in on mainland Scotland or the outer islands. The Isle of Raasay offers a unique proposition to consumers who are looking for a different experience of the highest quality single malt, presented in unique packaging, while being very transparent about how the whisky is being crafted. The brand fits perfectly well in our innovative and distinctive premium spirits portfolio. All Isle of Raasay spirits are distilled, matured and bottled at the distillery. We are excited to partner with the Isle of Raasay Distillery team and bring this amazing product to our distribution partners and whisky lovers in the region."
Isle of Raasay Distillery's Commercial Director William Dobbie, says; "we are very excited to be partnering with MONARQ, who have had many successful years building spirits brands in Latin America and the Caribbean. The Isle of Raasay Distillery team and I are delighted to finally be bringing our island
spirits to whisky lovers across the region and we look forward to a long and fruitful partnership with the MONARQ team."
Media enquiries:
- Izzy Connor, Marketing Manager, Isle of Raasay Distillery: izzy.connor@raasaydistillery.com

- Garrett Koolman, International Marketing Manager MONARQ Group:

garrettkoolman@monarqgroup.com

About Isle of Raasay Distillery:

Co-founders Bill Dobbie and Alasdair Day first met in 2013 and formed R&B Distillers with the common goal of building Scotland's leading artisanal distillery. Focusing on local production, provenance, quality and doing things differently.

By 2015, they had identified the Isle of Raasay as providing the ingredients for the perfect spirit, and planning permission to begin work revitalising the Isle of Raasay's nineteenth century Borodale House into a state-of-the-art distillery, visitor centre, and luxury accommodation was granted in 2016. They set about designing a distillery to create exceptional whisky that develops elegance, complexity, and depth early on in the maturation process and a handcrafted Hebridean gin that encapsulates Raasay's style, character and impressive geological variety.

Since its establishment, the Isle of Raasay Distillery has brought job opportunities to the island, worked closely with other local businesses and become embedded in the island's tight-knit community.

Part of the distillery's ethos is to produce, mature, bottle and market every drop of spirit directly from the island. This seeks to maximise the influence of the island on the spirit, and the distillery on the island. To quote the inimitable Whisky Writer Dave Broom at our distillery opening: 'we are not just making alcohol, we are making spirit.'

The distillery now employs more than 25 people on the island and the average age of the Raasay workforce is approximately 30 years old. An early indicator of creating inter-generational values and making sure this special island of 161 people continues to thrive.

For further press enquiries please contact: pr@raasaydistillery.com or 01478 470 550
---
About MONARQ Group:
MONARQ was founded in 2006 and is a leading independent regional import, distribution and marketing company, focused on developing distinctive and innovative leading premium alcoholic beverage brands. MONARQ operates in the domestic and duty-free markets of Latin America and the Caribbean as well as USA in duty-free, including the cruise channel. The company is headquartered in Amsterdam with its regional hub office in Miami and locations in Mexico City, St Maarten and Santiago, Chile. For more information, please visit www.monarqgroup.com and follow us on Instagram @monarqgroup.
2023-08-10