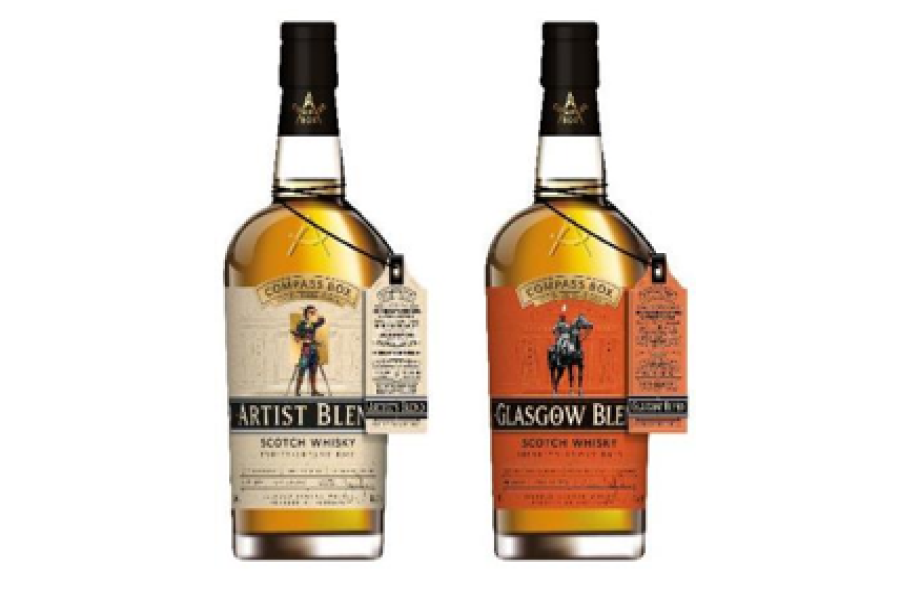 From Great King street to Compass Box Artist Blend & Glasgow Blend
Inspired by the Edinburgh street on which Compass Box had its registered address, and designed to cater for the exacting requirements of the world's most creative bartenders, GREAT KING STREET was the banner under which we released our two exquisite blended Scotch whiskies.
Compass Box has placed in the top 10 trending brands in the world's best bars for five years running. Artist Blend (bottled as GREAT KING STREET Artist's Blend until the end of 2020) and Glasgow Blend (formerly GREAT KING STREET Glasgow Blend) will continue to be bartender favourites, but our aim is to expand their reach and ensure our cocktail-friendly whiskies appear on more home bars as well.
Each whisky has been given its own icon, with labels that more clearly reflect that they are the creations of Compass Box. The liquids remain unchanged.
The look & feel of the label designs represent the personality of the cities.
And the liquids in the bottles are based on the historical taste preferences of their citizens.
---
ARTIST BLEND
Whiskies aged predominantly in ex-Bourbon barrels for vanilla creaminess and citrusy fruit notes
Some whiskies extra-matured in custom French Oak barrels and Palo Cortado Sherry-seasoned butts
GLASGOW BLEND
Whiskies aged predominantly in ex-Bourbon barrels and Oloroso Sherry-seasoned butts
Some whiskies matured in refill Hogsheads and custom French oak barrels
2021-01-06