Introducing: a beautiful selection from Marlborough, New Zealand.
We are excited to announce the addition of Astrolabe Wines to our portfolio.
Astrolabe Wines is a family-owned and -operated business, established by Simon Waghorn and his wife Jane in 1996. Winemaker Simon has refined his craft over four decades and has established a benchmark style of sauvignon blanc that reflects an unparalleled diversity of vineyard sources. Careful site selection, expert picking decisions, delicate fruit handling and brilliant blending are the hallmarks of this Marlborough wines. Simon's personal style defines an Astrolabe wine – focused, balanced and elegant.
The core range is the Province - Marlborough range which include the following expressions: Sauvignon Blanc, Pinot Noir, Pinot Gris, Chardonnay and Rosé. From this range, the Sauvignon Blanc and the Pinot Noir will also be available from our bonded warehouse in Miami as of Q4 2022. In his Province range, Simon emphasises the varietal intensity created by Marlborough's leafy vineyards, ripe fruit and cool-climate winegrowing conditions.
In addition, our Astrolabe Wines portfolio include the following product lines: VALLEYS, AROMATICS, WINEMAKER (organic) and DURVILLEA.
ASTROLABE MARLBOROUGH SAUVIGNON BLANC
Sauvignon blanc is widely considered by the wine drinkers of the world to reach its pinnacle of potential in Marlborough. The Astrolabe Marlborouh Sauvignon is the flagship wine and the benchmark for high quality Marlborough sauvignon blanc.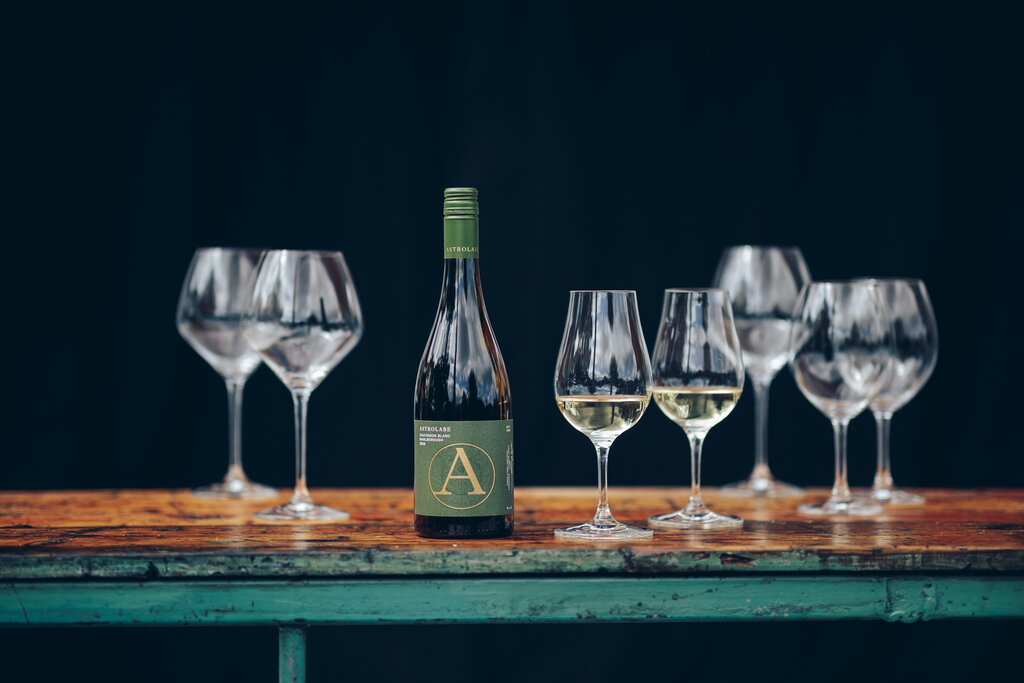 Color: Pale straw with green highlights.
Aroma: Powerfull gooseberry, white currant, red capsicum, passionfruit and lime peel aromas.
Palate: Medium-bodied, with strong flavours of makrut lime, passionfruit, lemongrass and a refreshingly smooth, dry and persistent finish.
Cellaring: Very enjoyable when young and fresh; will age gracefully with careful cellaring.
ABOUT THE NAME
An astrolabe is an ancient astronomical instrument that was used to make a diverse range of calculations. Its name translates as 'star-taker'. A mariner's astrolabe, modified for use upon a ship, was used by early navigators to determine latitude by measuring the altitude of a celestial object. French explorer Dumont d'Urville charted the Marlborough coast in 1827 aboard a ship named L'Astrolabe. When career winemaker Simon Waghorn wanted to start his own label in 1996, he chose the name Astrolabe because of the historic ties with Marlborough, and he liked the connotations of exploration and discovery.
The Marlborough wine region has a perfect combination of landscape and climate that makes it fantastic for grape growing, and these premium wines, are proof of that!
Please Contact us for more details about the various, extensive product lines and for distribution information in your territory.
2022-09-21