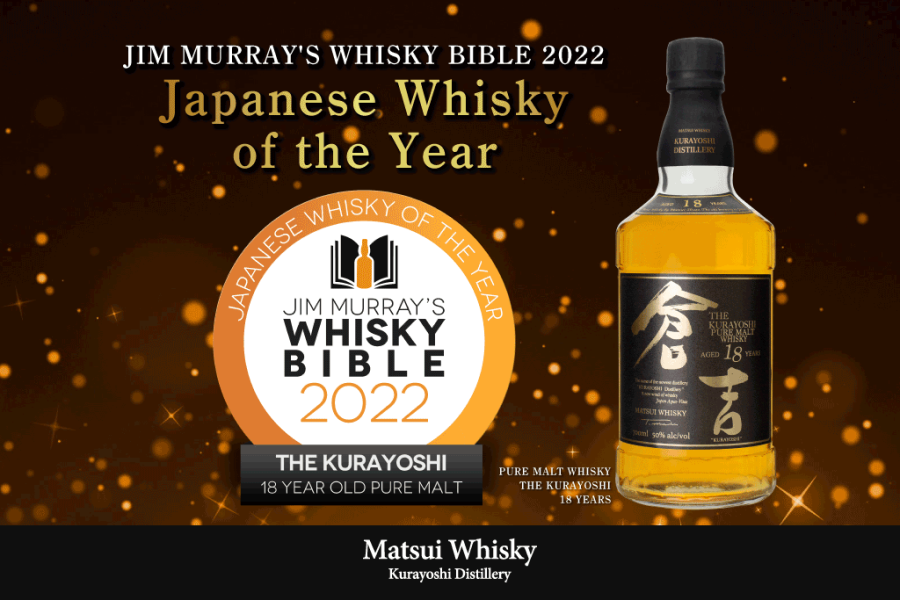 Kurayoshi 18 Years awarded "Japanese Whisky of the Year" in Whisky Bible 2022!
"Matsui Pure Malt Whisky The Kurayoshi 18 years" from the Kurayoshi Distillery (based in Kurayoshi City, Tottori prefecture, Japan) was chosen as "Japanese Whisky of the Year" by Jim Murray, one of the most renowned whisky journalists, in his "Whisky Bible 2022".
Jim Murray, who is described as "The man who has visited more distilleries globally than any person", announced the result in his 19th edition. Only the finest whiskies in each category are awarded. This year over 4300 whiskies were tasted and rated by Jim Murray.
The "Whisky Bible, is considered "the most comprehensive, internationally influential and thoroughly researched guide to all the world's whiskies. In terms of whisky, this is the gospel"

The Kurayoshi 18 Years is, by exquisitely blending technique, vatted with carefully selected malt whiskies matured in American White Oak for more than 18 years. The long-term maturation gives it a rich and deep flavor with a very smooth mouthfeel for being 50%, using fine spring water from Mountain Daisen. This is a rare and premium gem.
Matsui Whisky is widely available all over the globe. For availability in your country, please contact us.

Click here to read the full press release
2021-12-21