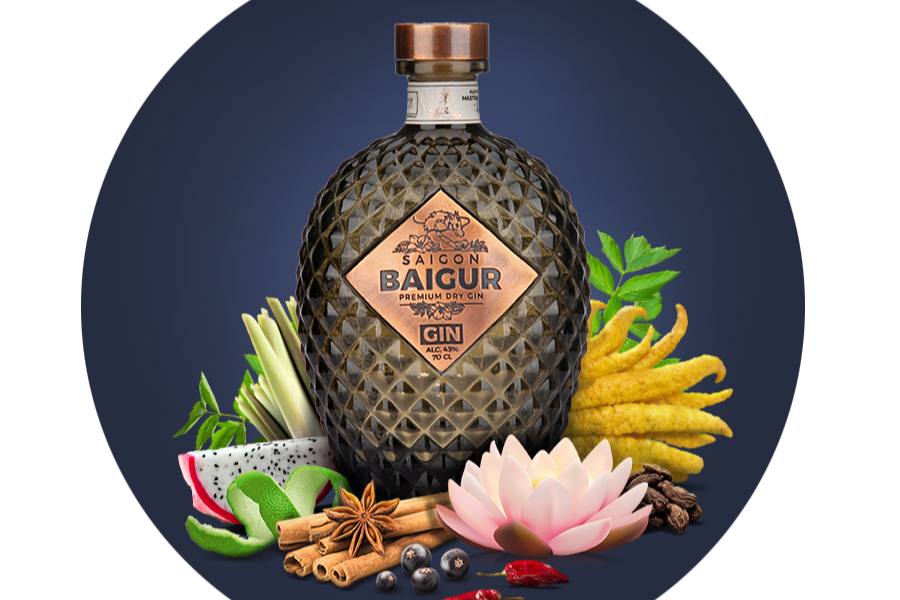 MONARQ adds Saigon Baigur Premium Dry Gin to portfolio
MONARQ Group is pleased to announce it has entered into a distribution partnership with Saigon Baigur Premium Dry Gin. As of today, MONARQ will be the exclusive distributor for this unique gin in the domestic - and duty free markets of Latin America & the Caribbean, as well as the USA duty free channel.
In 2021, the brand started exporting their gin and it is now available in more than 20 countries across Europe, Asia and North America. Always on the lookout for the latest trends and coolest new products, we are happy to present you this truly unique premium gin brand from Ho Chi Minh City (aka Saigon), Vietnam.
An adventurous and exciting gin!
Saigon Baigur is the first premium dry gin to be distilled in Ho Chi Minh City, Vietnam. It is a most extraordinary gin featuring fresh "Buddha's Hand" and vapour infused Lotus flower. The 12 distinctive local botanicals combined with 4 classic gin ingredients present a Vietnamese take on the classic dry gin. The unique combination of locally sourced botanicals gives Saigon Baigur a fresh and vibrant taste, inspired by the city it is distilled in.
Saigon Baigur will take you on a journey through Vietnam. With botanicals from every corner of the country, this is a gin, like Vietnam, mysterious & adventurous. It was inspired during many of the founders' motorcycle trips along the rugged terrains of Vietnam. Having witnessed the incredible diversity in landscapes, cultures, cuisines and herbs in the 2000-kilometer-long country and a passion for gin, the founders decided to bottle something of the extraordinary. Two years of experimenting resulted in an outspoken gin not like any other.
Beautifully designed bottle inspired by the dragon
Saigon Baigur takes its symbol from the dragon. Not only does this local mythological creature represent power and prosperity, it also brings rain and therefore the dragon is essential to agriculture and the botanicals used. The bottle has been inspired by the scales of the legendary creature. It took over a year to eventually find a glass producer willing to take on this daring project. After several attempts they finally achieved the result they were aiming for: a bottle like no other, for a gin like no other.
Product Specifications
Name: Saigon Baigur Dry Gin
ABV: 43%
Volume per bottle: 700ml
Please contact us for distribution information in your country.
2022-04-28