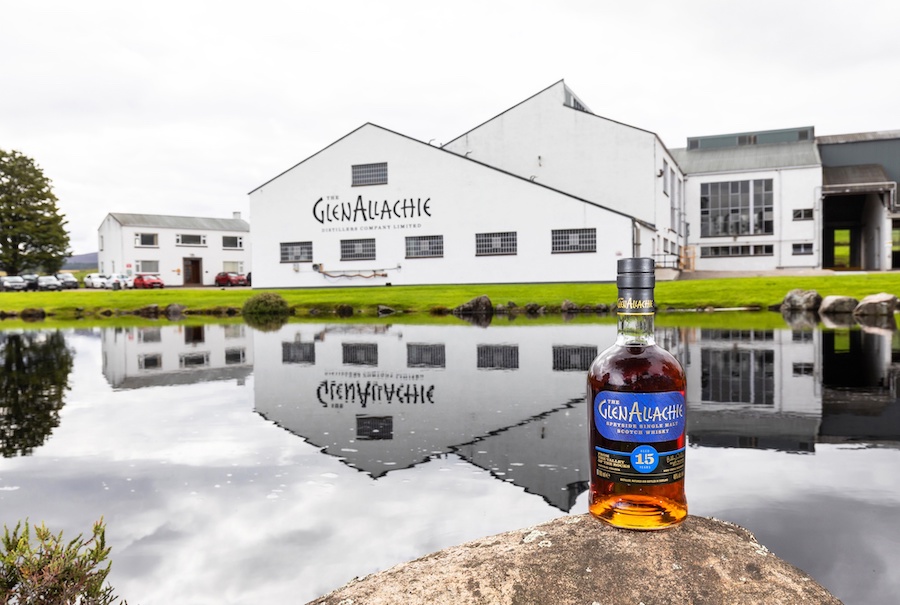 MONARQ & The Glenallachie Single Malt Announce Distribution Partnership
MIAMI- USA, September 19, 2023 - MONARQ Group and The GlenAllachie Distillers Company announce a distribution partnership for the domestic and duty free channels of the Caribbean and Latin America, as well as USA Duty Free. MONARQ is a leading import, distribution and marketing group of premium alcoholic beverages throughout Latin America and the Caribbean, as well as the USA Duty Free channel.
Nestled at the foot of Ben Rinnes, the GlenAllachie distillery lies in the heart of the Speyside - one of Scotland's most sought-after whisky regions. Spanning 16 on- site warehouses holding over 50,000 casks, the passionate team of The GlenAllachie (PRONOUNCED: Glen-alla-key) have complete control of the end to-end maturation process, giving them the freedom to make decisions for all the right reasons. Led by master distiller Billy Walker, with his over 50 years of experience, quality is put far above quantity. A strong belief that age and integrity matter, along with an innovative cask management philosophy is at the core of The GlenAllachie. In his words "We don't pursue absolute consistency; we pursue absolute perfection".
MONARQ's Managing Director, Robert de Monchy, says; "A brand like The GlenAllachie is a rare gem in the Single Malt category, such dedication to deliver the very best whisky possible, is exactly the kind of brand consumers in our region are aspiring to and seeking for. Consumers recognize true quality and appreciate age statements, two core philosophies at the heart of The GlenAllachie range. We are absolutely excited to partner with Billy Walker and his team"
The GlenAllachie Sales Director, Ronan Currie, says; "We are thrilled to announce our exciting partnership with MONARQ Group, the renowned importer in Latin America and the Caribbean markets, as well as USA Duty Free. At GlenAllachie, we have always been committed to sharing the exceptional quality and craftmanship of our Single Malt whiskies with enthusiast worldwide. With MONARQ Group's extensive reach and expertise in these regions, we are confident that our award-winning spirits will be warmly received"
Media enquiries:
Ronan Currie, Sales Director The GlenAllachie: rcurrie@glenallachie.com

Garrett Koolman, International Marketing Manager MONARQ Group:

garrettkoolman@monarqgroup.com
About The GlenAllachie:
The GlenAllachie's core range includes an 8-year-old, 10-year-old Cask Strength, 12-year-old, 15- year-old and 18-year-old. Each is bottled at a minimum of 46% ABV and proudly presented without added colouring or chill filtration.
One of Scotland's few independently owned and managed distilleries, The GlenAllachie is led by industry veteran, Billy Walker, who boasts over a half-century's tenure in whisky. With an emphasis on wood policy, The GlenAllachie's cask budget for 2023 stands at an eye-watering £2.7m/$3.3m. With 16 on-site warehouses holding over 50,000 casks, we have complete control of the end-to-end maturation process.
The GlenAllachie focuses on quality over quantity, which is why we chose to reduce our production capacity from 4 million to around 800,000 Litres of Alcohol and increase our fermentation period to 160 hours for an ester-rich, fruity spirit.
We believe age and integrity matter, which is why all our whiskies carry an age statement, and are bottled at a minimum of 46% ABV, natural colour and non-chill filtered for maximum flavour experience.
Further information on the distillery and company can be found at www.theglenallachie.com About MONARQ Group:
MONARQ was founded in 2006 and is a leading independent regional import, distribution and marketing company, focused on developing distinctive and innovative leading premium alcoholic beverage brands. MONARQ operates in the domestic and duty-free markets of Latin America and the Caribbean as well as USA in duty-free, including the cruise channel. The company is headquartered in Amsterdam with its regional hub office and freezone warehousing in Miami and locations in Mexico City, St Maarten and Santiago, Chile. For more information, please visit www.monarqgroup.com and follow us on Instagram @monarqgroup.