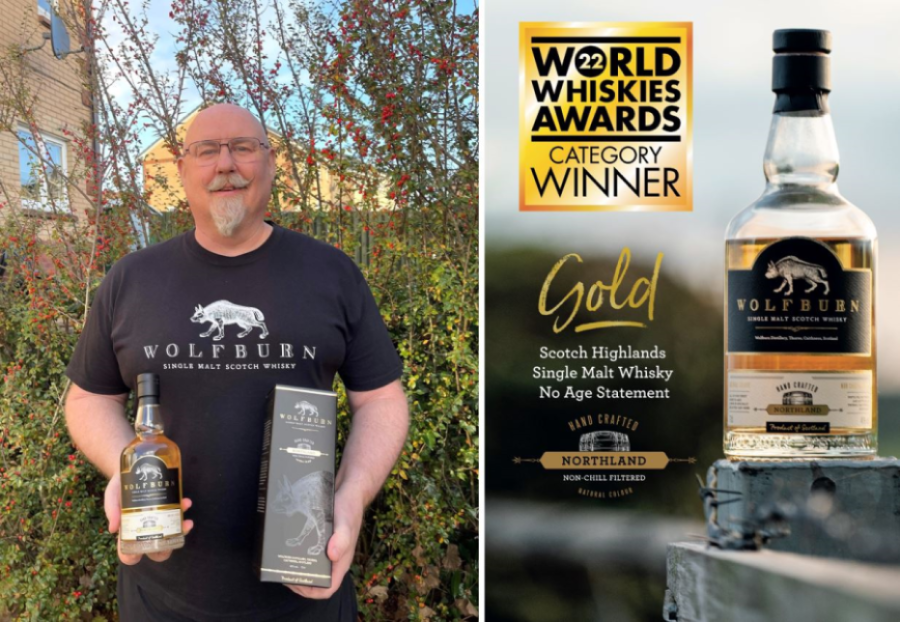 Wolfburn Scores a Hattrick at the World Whisky Awards
Wolfburn Distillery Press Release
Thurso, Caithness, 6th December 2021- Wolfburn's Northland single malt whisky has scooped top honours at The World Whisky Awards, being awarded a Gold Medal in the heavily-contested Non-Age-Statement category.
'Northland has won six consecutive gold medals in international shows,' says Mark Westmorland, Global Brand Ambassador. 'Each year the spirit used to create it gets a little older, a little more mature, a little more flavourful – and it keeps on winning!'
Northland was Wolfburn's first commercial whisky, first released in 2016. The spirit is laid down in small (120 litre) quarter casks, which mature quickly and ensure a lovely depth of flavour.
In addition, Wolfburn's Morven and Aurora expressions both took silver medals, making this the first ever awards ceremony in which all three of Wolfburn's 46% ABV core range won awards.
'It's really testimony to the efforts of our master distiller Iain Kerr, and the whole production team,' comments Mark. 'Highest quality spirit remains Wolfburn's hallmark, and it's lovely that it's now getting so much recognition.'
ABOUT NORTHLAND:
Wolfburn Northland's smooth and easy-drinking character stems from the way it is made. Long fermentation is followed by slow and gentle distillation to makes a pure, smooth spirit. Maturation is in the finest hand-selected oak quarter casks. Northland is non-chill filtered and entirely naturally coloured.
ABOUT WOLFBURN:
The original Wolfburn Distillery was founded just to the west of Thurso by William Smith in 1821. In its day it was one of the largest distilleries in Scotland, producing, according to HMRC records, 28,056 "gallons of proof spirit" in a single year. Taking its name from the stream that provided the water – the Wolf Burn - the distillery operated until around 1870. The reasons for its closure are lost in time, but by 1877 the newly produced Ordnance Survey maps showed it being in ruins.
In 2011 plans were laid to resurrect the old distillery. Construction began in 2012 and in January 2013 the new Wolfburn Distillery commenced production, thereby becoming the most northerly distillery on the Scottish mainland. Situated 300m from the site of the original distillery, the new Wolfburn operates in much the same way as the old: craftsmen use traditional methods to produce fine spirit, which is laid down in best quality oak casks to await the day when it is bottled as single malt scotch whisky. Wolfburn's single malt scotch whiskies are now available in 31 countries globally.
Wolfburn Distillery, Henderson Park, Thurso, Caithness KW14 7XW
www.wolfburn.com
www.facebook.com/wolfburn
2021-12-16